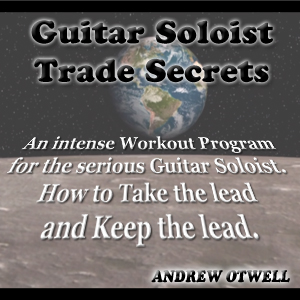 GUITAR SOLOIST TRADE SECRETS
Sections:

PRELUDE - The Art of Playing the Guitar
Section I - The Fundamentals (Establish the Foundation)
Section II - Repertoire & Exercises (Expand the Possibilities)
Section III - Advanced Topics
Section IV - Mental Game of Music
FINALE
Accelerate your musical knowledge to higher levels and higher speeds with over 200 pages of full page material. Learn all the trade secrets to great music and all the tips to becoming a professional quality player. This program provides multiple dimensions of knowledge including fingerboard mastery, finger coordination workouts, music theory and composition, musical styles and composition guides, equipment tips, and the art of performing music for a live audience. View the table of contents. Exclusively available on OtwellMusic.com®.
Advanced learning takes place between a player, their instrument, written music, and an instructor. This two-book format provides the music and the instructor (in written words); you provide the rest.
Sample 1 -- Sample 2 -- Sample 3 -- Sample 4
GIFT OPTION: If you are buying this as a gift for someone, simply reply to the order confirmation email and let us know the email address of your gift recipient. We will then grant them access to the materials.