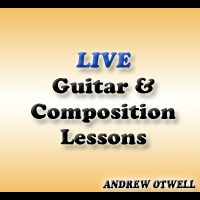 LIVE GUITAR & COMPOSITION LESSONS
This live series is available for local residents and consists of traditional live instruction based on goals, exercises, discussion, examples, etc. These lessons can include a guided progression through the OtwellMusic Guitar Lesson Program (purchased separately) or it can be broad and cover topics the student is interested in learning.
The guitar lessons are focused on playing, techniques, styles, thrills and fills. The music composition is focused on notation, melody/bass/harmony, theory, harmonic textures, instrumentation, and orchestration.
Meet Face to Face. Lessons are scheduled after the payment is processed.